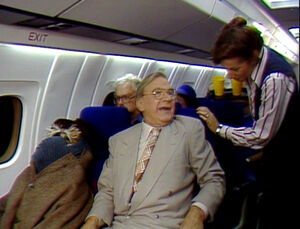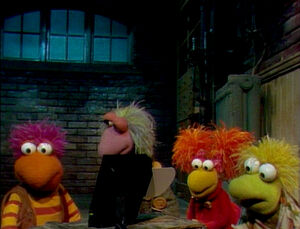 Ned Shimmelfinney has to move to the desert for his health, and Doc and Sprocket have promised to come with him.
Doc, who now knows about Fraggles, wants Gobo to come along with him, but Gobo chooses to stay with his friends in Fraggle Rock.
However, the Fraggles try to reach Doc again after the Trash Heap gives them the message "You cannot leave the magic."
After hearing the Trash Heap's advice, Gobo then goes to tell Doc the Trash Heap's message. However, he is too late. In the abandoned workshop the Fraggles find Doc's tape recorder and then proceed to listen to it. After listening to the tape the Fraggles start to mope back to their caves. However on the way they notice a long tunnel with sparkling crystals lining the walls. In the cave the song Magic Be with You is playing from an unknown source. Gobo realizes that "You cannot leave the magic" is not an imperative but a statement of fact. After some time spent walking, Gobo pushes away a box in Doc's new workshop meeting Doc and Sprocket. The Fraggles, Doc, Sprocket, the Doozers, and the Gorgs then sing an alternate version of the closing theme. While the credits roll, a montage of the characters singing the theme song plays.
Notes
The closing theme is sung by the entire cast of the show, with Doc wrapping it up in the same fashion that Boober wraps up the opening. This marks the third of three times that the regular scat version of the theme is being replaced by an alternate song during the end credits. The other two episodes are The Bells of Fraggle Rock and The River of Life.
The closing credits include a dedication to Muppet designer Don Sahlin, who died in 1978, five years before Fraggle Rock debuted.
Supporting cast
Songs
UK and US Variations
Video releases
Ad blocker interference detected!
Wikia is a free-to-use site that makes money from advertising. We have a modified experience for viewers using ad blockers

Wikia is not accessible if you've made further modifications. Remove the custom ad blocker rule(s) and the page will load as expected.