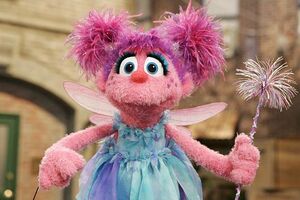 Template:Designer Abby Cadabby debuts in the first episode of season 37 of Sesame Street when she moves to Sesame Street from Fairyside, Queens. Abby is a shy, three year old "fairy-in-training" and the daughter of Cinderella's Fairy Godmother. Her name is a play on the magic word Abracadabra.
Abby's magical powers are limited to popping in and out of thin air, floating when she's happy, and turning things into pumpkins. Her magic word, "allerednic," is Cinderella backwards. Although familiar with the world of fairy tales, Abby is astounded by such basic learning skills as drawing letters or counting, prompting her catchphrase "That's so magic!"
She can speak a language called Dragonfly and is teaching Rosita the language, while Rosita teaches her Spanish.[1]
Along with new friend Baby Bear, Abby is starting school at the Storybook Community School, where Mrs. Goose is the teacher and other fairy tale characters like Hansel and Gretel are her classmates.
Tony Geiss conceptualized Abby as a way to simultaneously introduce a major female character to the show and add someone from a different culture, without "having consciously to introduce somebody from Indonesia or India."[2] Abby's design is an intentional departure from the typical "Muppet" look, because she's not originally from Sesame Street. The implication is that the fairies in her old neighborhood look like her. Her design was originally very earthy.[3]
Abby's arm rods are usually performed by Pam Arciero.
Appearances
August 14, 2006: Abby makes her public debut on the Today Show, only hours before her first appearance on Sesame Street.[4]
August 18, 2006: Abby is featured as "Person of the Week" on ABC World News Tonight.[5] She is the first Muppet to earn the honor, possibly the first non-human.
Quotes on Abby
"We have our wacky, and we have our gentle. But we wanted a lead female character. If you think about The Mary Tyler Moore Show, some girls relate to Rhoda, who's our Zoe, and some girls really relate to Mary, who's a girly girl. And we didn't have that girl. We made a definite decision to sit down with the writers to figure out what this character might be." -- Liz Nealon[7]
Sources